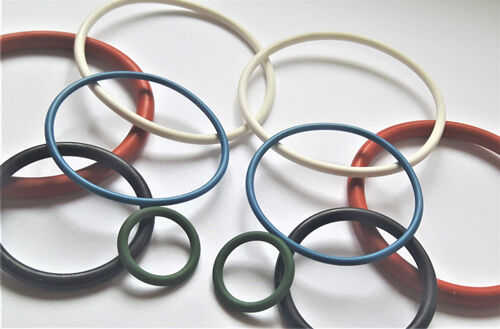 Over 9,000 standard mould sizes to AMERICAN, BRITISH, GERMAN, ITALIAN, JAPANESE sizes. IMPERIAL, METRIC, DIN & all world standards. Numerous materials and hardness options in stock.
LOW-FRICTION materials a speciality.
HALF TOLERANCE RINGS available.
Materials
We can offer O-Rings in Nitrile, Viton, Silicone, Neoprene, PTFE, EPDM, Perfluorolastomer (Chemraz, kalrez etc.), FEP Encapsulated and other Natural & Synthetic Polymers.
Sizes
We offer an extensive range of sizes and specification details are available:
Alliance Group, incorporating Alliance Seals Ltd, Alliance-GPP (Rubber Components) is a major manufacturer and supplier of O-Rings and sealing solutions to many diverse industries and prides itself on being able to offer outstanding customer service and support.
Over more than 20 years we have developed more than 200 material compounds that satisfy various international standards, including Nitrile, Viton, Silicone, Neoprene, PTFE, EPDM, and Perfluorolastomer. These products offer outstanding chemical resistance, can withstand pressure and high-low temperatures and provide non-stick/low friction values, high-tensile strength, abrasion resistance and low compression-set characteristics.
You can expect only the most effective O-Rings and seal compound formulations, whilst adhering to rigorous inspection both during and after production. Our aim is to ensure all our products meet the highest of standards for our customers, therefore O-Rings and seal quality improvement is the keystone of our processes.
We can offer products that can be used for a variety of purposes, including hydraulics, pneumatic, static, dynamic, linear and rotational applications. We have now extended our range to FEP Encapsulated O-Rings, Back-up and Anti Extrusion Rings to suit most sizes, X-Rings, H-Rings, Quad Rings and O-Ring Cord.
The items help protect or seal against fluids/liquids and gas loss and are available in both standard and metric sizes. For the technical and size index, please click on the link below.
At Alliance Group we have a wealth of knowledge and experience in the seal industry to ensure all our products can be custom made to fit all sizes of applications and equipment, allowing it to seal against a wide and varied temperature range. We make it our top priority to understand and develop these tools since they are a key element in machine and equipment design.
Additional products available from Alliance Group are gaskets, washers, grommets in PVC and rubber, rubber-sheet, hand and finger grips, ferrules, self-adhesive feet and bumpers in polyurethane, as well as custom mouldings, extruded-profiles and cord.
British Standard BS1806 and Imperial BS4518
British Standard Pipe Fittings
French Standard R
Swedish Standard SMS 1586
Japanese JIS 240 P + G
DIN 3771
ISO 3601
And many more International Standards. Please contact us for full details, for application details, material compatibility and technical support.
Also available:
FEP Encapsulated O-Rings
Back-up and Anti Extrusion Rings to suit most O-Ring sizes
X-Rings, H-Rings, Quad Rings in popular sizes
O-Ring Cord